Full length broadband movies demand so many terabytes of secure redundant high-performance storage that Advection.NET is as much an outsourced storage provider as a streaming CDN. We store tens of thousands of full length movies and millions of minutes of video and audio clips, accessible to hundreds of thousands of users simultaneously.
We collaborated with industry leading hard drive, storage controller, and storage software vendors to develop a proprietary network attached storage appliance (NAS) capable of handling these loads at scale yet inexpensively. As an Advection.NET streaming or downloads delivery customer, you get this storage with your account—at pricing remarkably below companies providing offsite storage alone.
Online Storage Features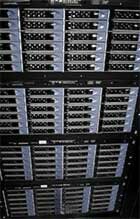 Racks of our redundant Auragan 5n 7200 NAS (network attached storage) appliances in our Dallas data center.
In addition to letting you serve native streaming formats, Advection.NET's online storage capabilities meet and exceed what you would expect from a storage network:
Manage storage with native Windows and Mac OS X folders
Integrate with content management systems (

CMS

) by

FTP

,

SFTP

, and WebDAV
Store an unlimited number of directories and files
Store up to 4 terabytes per directory
Create files up to 2 terabytes
Manage files at 1,000 mbps (1 gigabit per second)
Provide file downloads to users at multiple gigabits simultaneously
Our video storage system also automates the most common media tasks, including DRM for all media types including Flash, and full video encryption management for Windows Media and Silverlight formats:
Duplication of content to redundant

NAS

servers
Replication of content to redundant datacenters
Thumbnail extraction

RSS

feeds

DRM

encryption of uploaded content
Deep-linking prevention
Online Storage Pricing
Our basic Personal Plan is just $19.95 per month for 300 hours of audio storage and 3,000 hours of audio playback, or 20 hours of video storage and 200 hours of video playback. Our premium Media+ Plan for content providers is only $9,995 per month for 300,000 hours of audio storage and 3 million hours of audio playback, or 20,000 hours of video storage and 200,000 hours of video playback. Please see our pricing for details.
Of course, any mix of audio and video is fine. We stream and download Windows Media, QuickTime, DiVX, Flash, MPEG4, H.264, and more, with the most advanced streaming features and digital rights management in Windows Media and Silverlight formats.
When your company depends on streaming media assets for revenue, you need to protect those assets. If your company is public, you may even be required to store backups offsite.
Because we're able to put your storage to work generating revenue through streaming and downloads, you can outsource your redundant media storage to Advection.NET for less than the cost of dedicated offsite storage companies.