Auragan's founders and employees come from leading e-commerce acceleration, streaming, portal, and entertainment companies on the Internet. Each has extraordinary experience ranging from developing web applications for Fortune 500 industries to (quite literally) rocket science.
Founders' Backgrounds
Our founders, Michael Alatortsev and Michael Terretta, have a long history of helping emerging technologies work better for clients. Alatortsev and Terretta developed a strong working rapport in the late 1990's while helping build e-Media into a quarter billion dollar web agency and streaming media network. After leaving e-Media, each detoured into other professional opportunities until joining forces to establish a streaming delivery research and development company, Auragan LLC, in fall of 2001. A year later, using the extraordinarily cost-effective video delivery network ("VDN") management technologies they developed, they launched Advection.NET as a private-label streaming services company offering wholesale video delivery and "v-commerce" development.
Michael Alatortsev, Co-Founder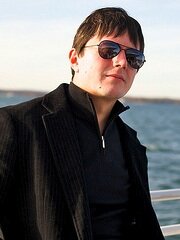 Michael Alatortsev brings more than 15 years of software engineering experience to his role overseeing customer engineering, managing over 300 software developers distributed among Auragan's three development and engineering offices, building both Auragan's intellectual property and clients' high traffic media sites such as Liquid Generation.
Prior to Auragan dba Advection.NET, Alatortsev was VP of Software Development at e-Media, Inc., where he oversaw the design and implementation of e-Media's core technologies as well as the successful delivery of numerous multi-million dollar customer web development projects.
Born and raised in Russia, Alatortsev completed a five year Engineering program in Aircraft Engine Design. With the Cold War over, and the rise of entrepreneurship in the former Soviet Union, Alatortsev became interested in commodities trading and co-founded a successful enterprise before moving to the United States in 1993.
In 1996, he received his B.Sc. from the University of Bridgeport, where he majored in Mechanical Engineering and Computer Science. Alatortsev enjoys travel, skiing, astronomy, politics, and speculative investing.
Michael Terretta, Co-Founder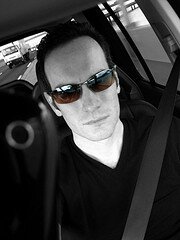 In 1993, Michael Terretta moved from managing technologies for the printing/publishing industry to helping businesses drive revenue growth online through long-term vision and technical innovation.
At Advection.NET, he has focused on helping customers deliver frictionless media, through an easy-to-use international DRM-enabled social media platform and video delivery network that makes streaming media affordable enough, engaging enough, secure enough--and above all, easy enough--to be profitable. In the five years since inception in 2001, Auragan dba Advection.NET has been self-funded, profitable, and organically doubling its revenues every year.
Previously, as CTO of a Royal Bank of Scotland (NatWest) subsidiary, Terretta re-architected a one-click email shopping cart into an extreme performance credit card processing and e-commerce brokering solution, while cutting recurring IT staffing and support costs by 50%.
Prior to RBos/NatWest, Terretta served as Chief Technology Officer for e-Media, which he helped grow from a privately held six employee web design shop into a 165 employee integrated hosting and streaming services leader recognized by investments from Goldman Sachs, Microsoft, and EMC. He designed and oversaw e-Media's extreme performance commerce-enabled delivery network that processed over $35 million in transactions each month while delivering billions of web hits, tens of millions of streams, and hundreds of millions of ads per month for clients such as GE Capital, House of Blues, Sony, HBO, ShowTime, TechTV, and World Wrestling Entertainment (formerly WWF).
Terretta was instrumental in designing the extreme-concurrency membership and processing capabilities in Microsoft's Windows Media Technologies pay-per-view solution in 1998, and has filed patents for various high performance transaction solutions as well as extreme scale integrated e-commerce/streaming appliances capable of storing and delivering petabytes of streams to millions of users while simultaneously managing e-commerce transactions. Terretta has been a frequent speaker at streaming media trade conferences, and served on Microsoft's Internet advisory board.
Terretta has lived in Belgium, France, Cameroon and Russia. His interests include b/w photography, short fiction writing, skiing Alta, and the MV Agusta F4 Brutale.
Engineers' Backgrounds
Auragan's employees and engineers have excellent educations in computer sciences and systems engineering. One point of difference between the USA and the former Soviet Union is that a Bachelor's degree in Russia certifies a more advanced level of education than a Bachelor's in the United States. Most of our team leads have Masters or PhDs.
With offices in Belarus, Ukraine, and Russia, Auragan is able to draw on the most talented technicians from one of the best developed technical education systems in the world. With these unmatched discipline and problem solving skills working for you, your solutions will also be world class.