Over the past decade, we have earned our reputation for premier web hosting by handling Super Bowl sized television-driven traffic and managing complex sites requiring a dozen different types of servers in multiple datacenters. Our proven extreme hosting has delivered billions of hits and millions of dollars of revenue per month.
Advection.NET's IT experts bring you affordable and cost-effective collocation, managed services, and network infrastructure. We have been involved in the Internet service provider, collocation, and web hosting industry since the mid 1990's, providing services to major entertainment brands such as World Wrestling Entertainment (WWE), Sony, CNET, and many more.
We understand the challenges involved with developing or maintaining your legacy or high performance server farm. We enable you to refocus on your own core business by handling the networking and site hosting complexities for you.
Scalable Web Hosting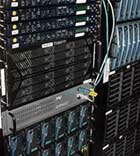 Managed rack servers: 1U and 2U appliances, 5U NAS, 3U and 7U blade servers
If you are considering alternative webhosting providers, you've certainly realized that custom tailored hosting doesn't fit in a box. Talk to our founders about building a best-in-class network architecture ideally suited to your own unique requirements. We can help you build a solution, or rapidly migrate portions or all of your media-related e-commerce site onto our pre-deployed Windows or Unix server farms.
A sampling of our know-how that other clients enjoy:
Large scale hosting network design
Security auditing and server hardening
Dedicated server leasing and management
Collocation services
Wholesale bandwidth pricing
We leverage over a decade of relationships with top-notch networks, data centers, and equipment vendors, to acquire the best of these products and services for you at highly favorable prices. You capitalize on these cost savings while improving your site's performance
Expert Network Consulting
Advection.NET will help you determine the ideal hosting solution, not the most expensive one. We're focused on providing what you need, when you need it, at the best return on investment. Highlights of our approach:
More experience and better relationships with networking, datacenter and equipment vendors
Network architecture experts who have designed for leading media companies
Monitoring and reports that are relevant to your business, not just equipment status, but also usage thresholds and security metrics
Multiple data centers for redundancy, including international locations
Servers and hardware designed specifically for your site, dedicated to your site
Gigabits of bandwidth available all the time
Our clients say they are continually impressed with our "can do" attitude along with 24/7 service and support by engineers familiar with your site. More importantly, after moving to us, their user conversions and retention levels climb. Get in touch to find out if we can do the same for you.